FO Roundup December 2019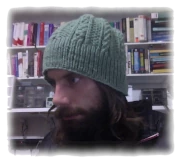 I'm a slow knitter. My ravelry.com account is nine years old today, and I've just posted my first projects (and design!)
Socks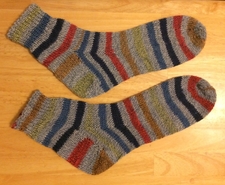 I wanted to try something with some more shape than my usual hats and scarves. I didn't follow any pattern, but I read about different ways to do heels and toes. I found the various "sock recipes" you can find online to be helpful (like Vickie Howell's How to Knit Socks).
I ended up working cuff down: a few inches of ribbing with a 9" circumference, a heel flap, what I think is a French heel or similar, a gusset, the foot tube until it fit my feet, decrease for the toe, and then Kirchner stitch to finish the toe.
I used the magic loop method, and got a bit turned around after finishing the heel, but figured out a way to proceed. I'm sure there's lots of ways to handle socks on a magic loop.
They are comfortable! I like the self-striping yarn. No one believes me, but I intentionally did not start the socks at the same place in the striping.
Dad Cable Hat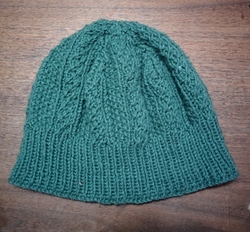 After having made several very simple stockinette hats, I wanted to try something a bit fancier looking. So I tried this "Cabled Dad Hat" pattern by Alexis Winslow. Mine turned out with rather stiff peaks at the decreases, I think because of the yarn I used, but I like the pattern: the twists give it nice texture without looking too cable-heavy.
Ombre Hat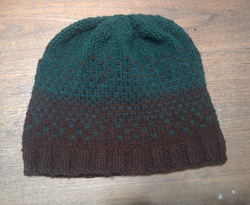 I also wanted to try one with a little bit of color work. Emily Dormier's Quick Ombré Hat is a simple two-color pattern with a nice fade effect.
Hats for the Homeless and a Simple Crochet Cap Pattern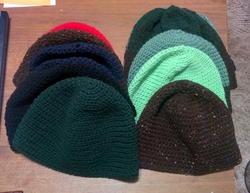 Years ago, when my Ravelry account was still young and blank, a friend taught me how to crochet a simple beanie as part of a "hats for the homeless" event she organized. I've written down that pattern along with some notes for the beginner: Simple Crochet Beanie Cap Pattern and Notes. I also re-discovered some of the hats we created at that event, added a few more, and (finally) donated them to a local charity that distributes them at its free health clinics and soup kitchens.