Knit & Crochet Finished Object Roundup 2020-2022
I'm currently bringing in the new year while knitting a mitten. Here's a quick look back at how I got here. (As usual, check the Ravelry link for the pattern, more photos, and more details of each project.)
2020 The Year of Blankets
In 2019 I wrote about how I started to knit again and finished a few projects (my first pair of socks and some hats) after having learned years earlier but never having finished anything other than a scarf. I had hoped that was the start of my knitting momentum, but I did even less in 2020.
Tunisian Crochet Blankets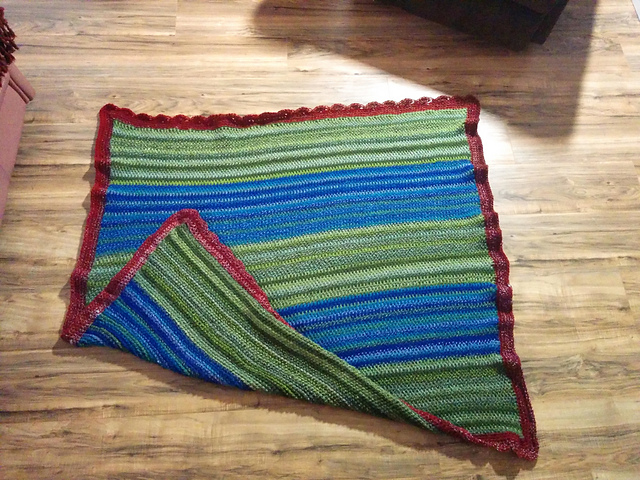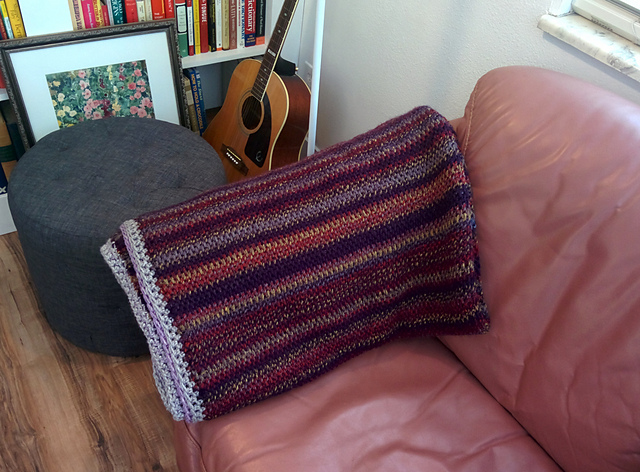 Although I knit very little in 2020, I did experiment with Tunisian crochet and finished two blankets! I liked the first one so much that I made another one for my sister at the end of the year. They are both just Tunisian full stitch with a single crochet edge. The yarn I used is Premier Yarn's Puzzle, which is a very soft and fuzzy bulky acrylic. The Tunisian full stitch texture works well with it, and the blankets are like very cozy chain mail.
Doubleknit Potholder
I did knit one thing! A doubleknit potholder I made for my sister who raises chickens (that's a hen duplicate stitched into one of the green diamonds). I designed the colorwork chart. It is my first real attempt at doubleknitting, using cotton yarn (so it can be used as a potholder without melting or burning), in a rush for Christmas, and unsurprisingly the tension is pretty wonky. It still gets used to this day, but it is even less square than when it was new.
2021 More Crochet Experiments
Toe-up socks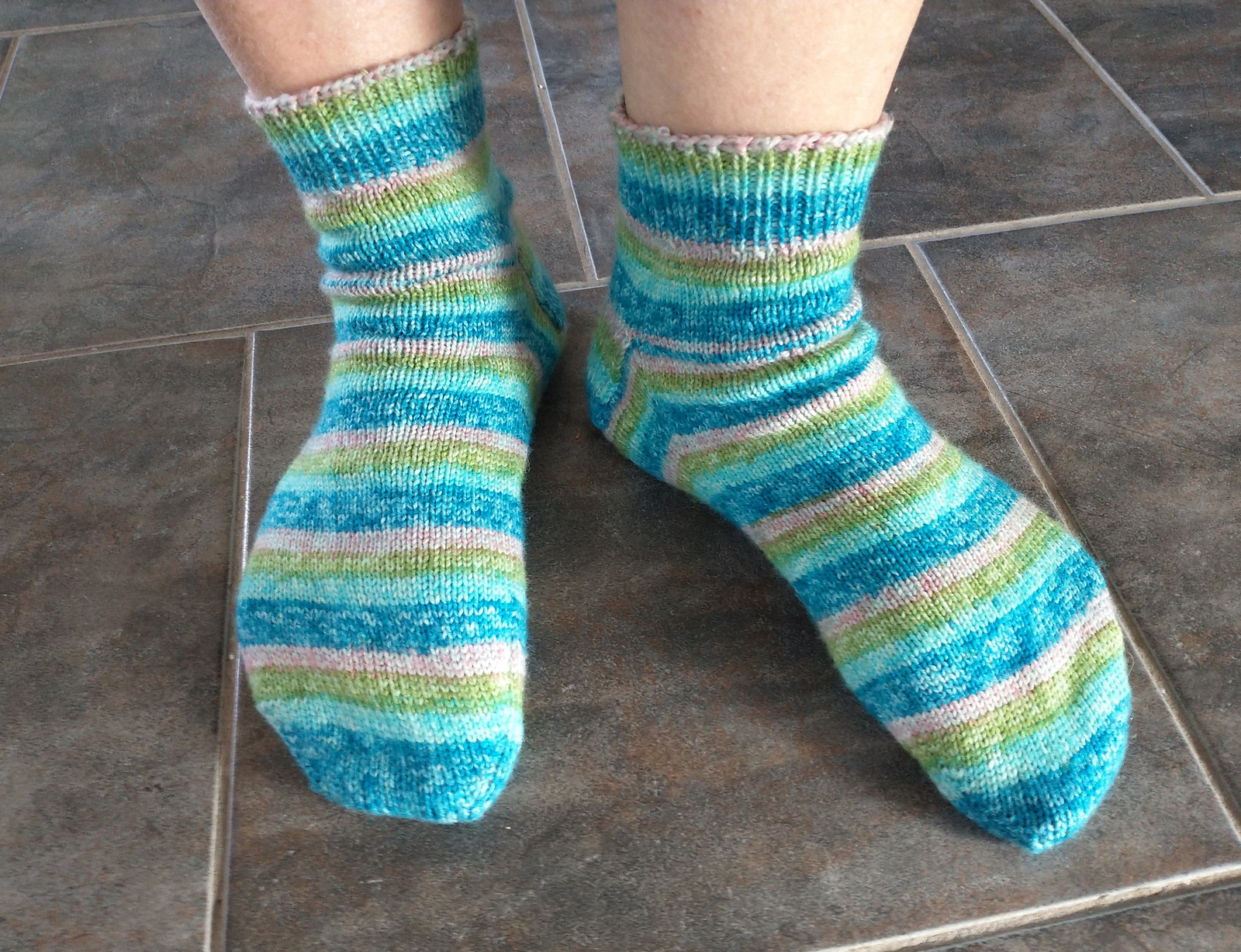 Again I didn't end up knitting much in 2021, but I did complete a pair of plain toe-up socks which [mostly] fit their intended recipient and were overall much better than my first attempt at socks.
Knit-brim Crochet hats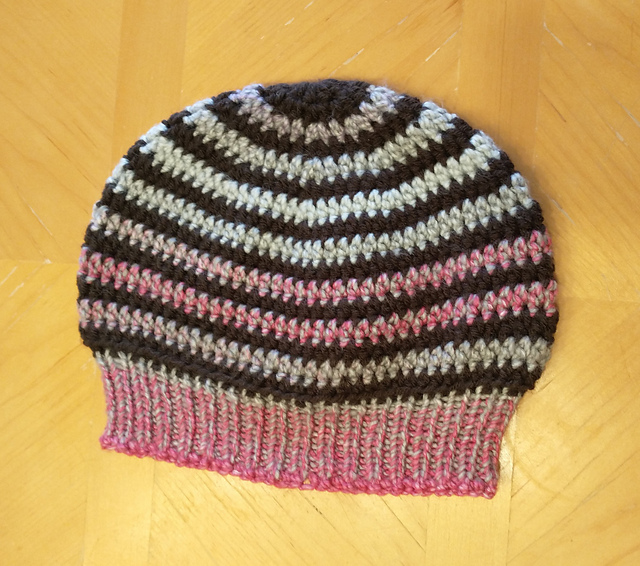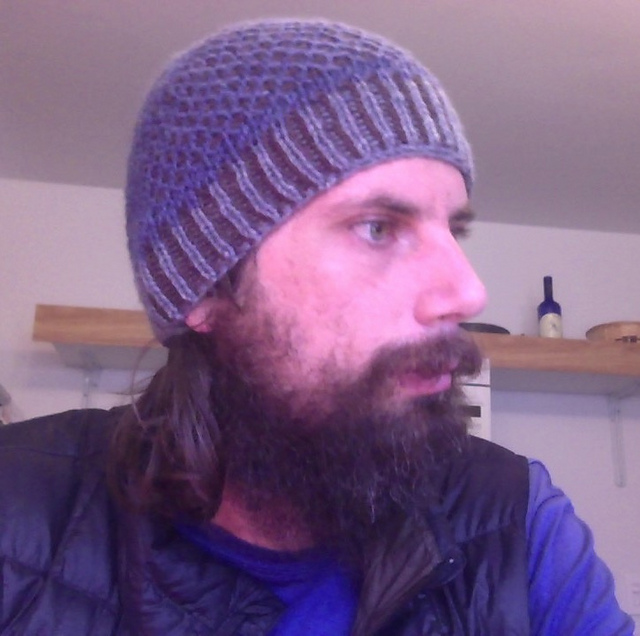 I also made a couple of hats where I crocheted (or Tunisian crocheted in the case of the honeycomb one) the hat body and knit the ribbed brim. I really like the combination of Tunisian for the top of the hat and knit for the rib; I will experiment with that further.
Tunisian scarf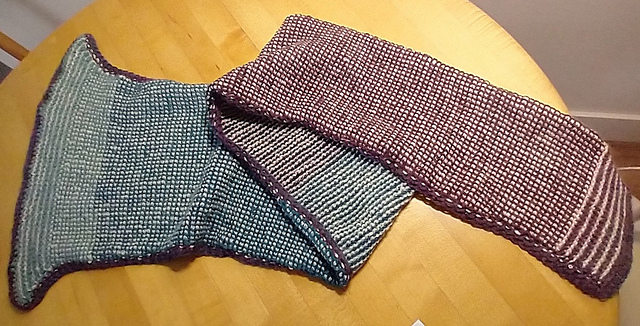 I also designed a tunisian simple stitch scarf for my sister. My intention was to surface cross stitch a graphic into the scarf (using the grid created by the tunisian simple stitches), but the scarf had too much curl. I've designed a second version as a tube, to be crocheted in the round (which I think will be easier than working flat anyway), to solve the curling issue (and to more easily add pockets) that I need to get started on some day.
2022 The Year of Sweaters!
This year is the year where I finally feel like I've become a knitter! I made my first sweater(s), first colorwork socks, first lace, first mittens.
Socks and Mittens
Echo Flower Shawl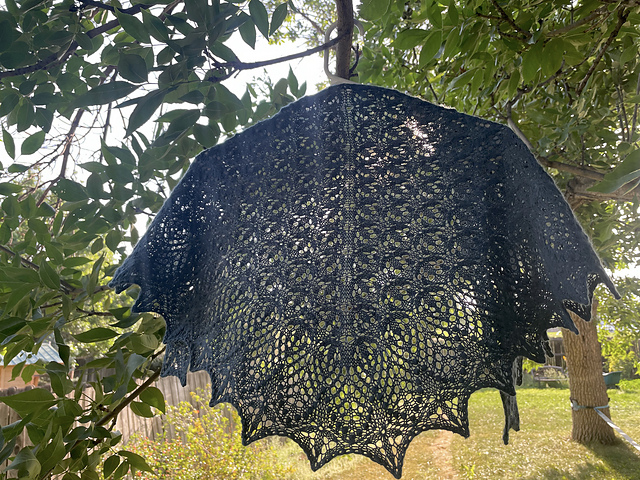 I'm not even sure what a shawl is for, but I came across several free patterns of impressive-looking lace I want to try. First up is this Echo Flower Shawl pattern by Jenny Johnson Johnen. The pattern incudes a full shawl as well as a smaller "shoulderette" which I made. My first lace pattern…​ it was fun to see it open up with blocking.
Sweaters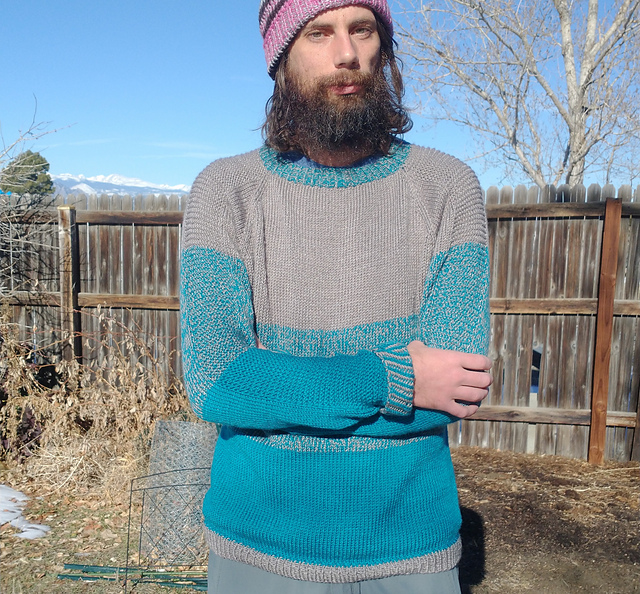 I finally made a sweater! I first bought some bulky wool yarn to try a circular yoke design, but then I got on sale some worsted-weight acrylic yarn and decided to make a Flax by Tin Can Knits (a very popular topdown, seamless raglan). I still haven't gotten to the bulky colorwork sweater.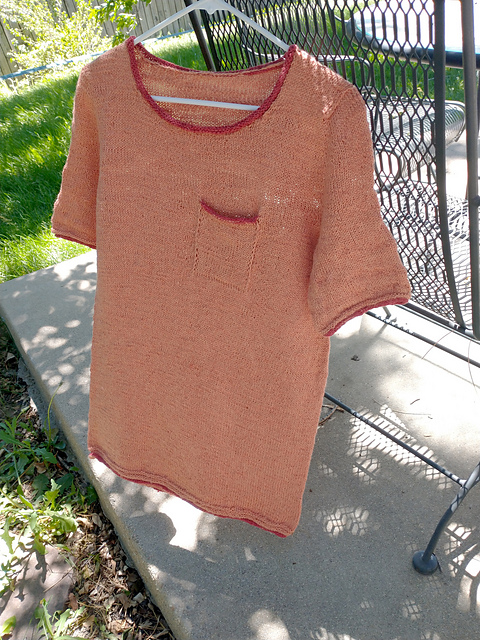 I wanted to make a T-shirt, and I got some rustic linen/wool/cotton yarn on sale that I thought might work. The pattern uses Phrancko's seamless set-in sleeve construction (https://phrancko.com/). I also attempted a patch pocket. It turns out the yarn is both heavier and itchier than I expected, so it is more like a short-sleeve sweater and I haven't worn it much.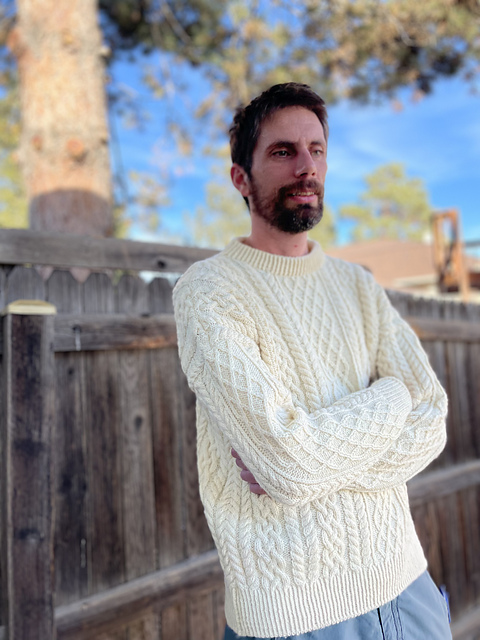 For my birthday I got some Aran-weight wool yarn that I made into an Aran sweater following Caryn Shaffer's free Handsome Chris Pullover pattern (it is based on the sweater featured in the Knives Out movie). This was my first seamed garment.
Shadow Knit Potholder

I have plans to make a shadow knit sweater. To practice that technique, I made this potholder. The idea is that when viewed straight on it looks like horizontal stripes, but when viewed at an acute angle, vertical stripes appear.
Hats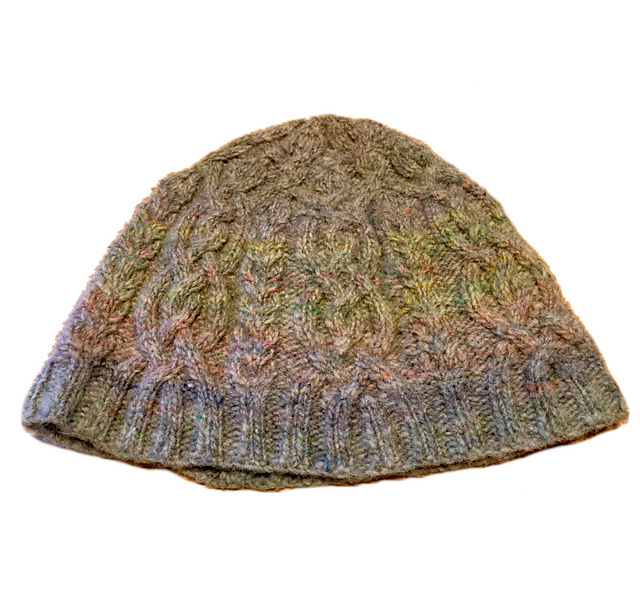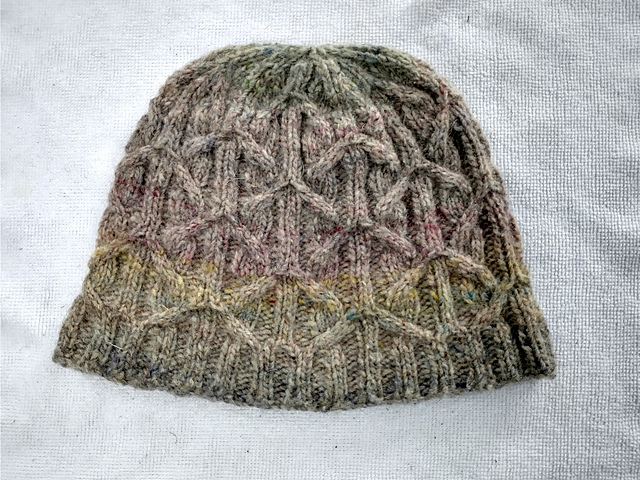 My sister brought me a skein of wool yarn from a trip to Spain, and I used it to make a couple of cabled hats designed by Irina Dmitrieva.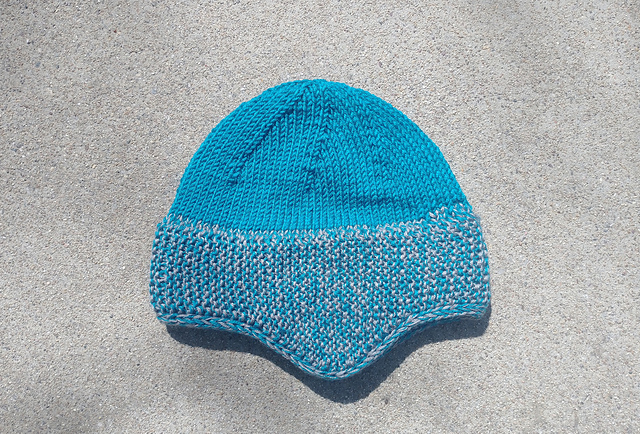 Maybe my favorite hat I've made, with its fun and warm double-thick brim. It was designed by Kristine Byrnes for the Seamen's Church Institute's Christmas At Sea program. I made this one out of leftover yarn from my Flax sweater.
Up next